Llamas, alpacas and their wild cousins, guanacos and vicunas, are collectively known as South American camelids, or simply lamas. Most people associate llamas and alpacas with South American indigenous tribes, such as the ancient Incas, but few realize that the ancestors of these long necked critters of the Andes evolved in North America.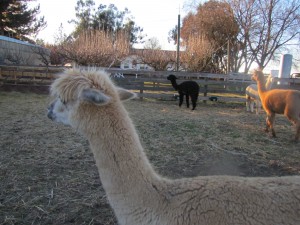 The word alpaca is a derivative of the Spanish word el Paco, which in turn comes from the Amyara word allpacu.
Names for lama hybrids include:  cama (dromedary sire/guanaco or llama dam), huarizo (llama sire/alpaca dam), misti (alpaca sire/llama dam), paco-vicuna (vicuna sire/alpaca dam), llamo-vicuna (vicuna sire/llama dam), llamo-guanaco or llanaco (guanaco sire/llama dam), and paco-guanaco (alpaca sire/guanaco dam).